Sustainability eLearning: a great preparation for PROBE training
Sustainability: Step by Natural Step

TM

and Sustainability 101

TM

  
---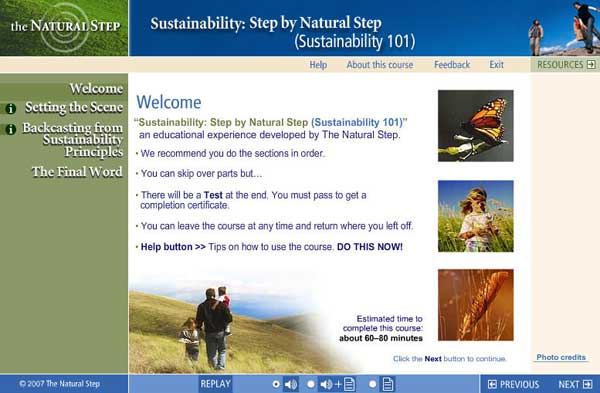 The Natural Step is a respected, international, non profit organisation at the forefront of international research and dialogue about sustainable development. Among many valuable contributions, TNS has developed the Framework for Strategic Sustainable Development (FSSD), also known as The Natural Step Framework, which defines four basic priciples for sustainability.  These principles provide powerful insights that can be used by businesses/organisations to analyse their actions and performance from a sustainability perspective, and are at the heart of the PROBE for Sustainability Excellence benchmarking tool. The Natural Step is a close collaborator with The PROBE Network in the promotion and deployment of PROBE for Sustainability Excellence (a.k.a. 'PROBE for Sustainable Business') as a practical tool that helps organisations to engage with the FSSD and understand the relevance and opportunities that sustainability offers. The same principles of sustainability are also embedded into all variants of PROBE, recognising that sustainability is itself an integral component of 'Business Excellence'.

This two minute video provides a brief introduction to The Natural Step and the four principles of sustainability.

The Natural Step and Sustainability explained in 2 minutes

To make best use of PROBE, it is important that you have at least an introductory-level understanding of the four principles of sustainability, as explained by TNS.  An efficient way of obtaining such an understanding is to complete one of the short eLearning courses developed by TNS:
Sustainability: Step by Natural StepTM takes approximately three to four hours to complete (depending on the learner's pace)
Sustainability 101TM is a condensed version of Sustainability: Step by Natural StepTM, and takes approximately sixty to eighty five minutes to complete.  It covers similar content, but with fewer details/examples.
The courses are available in several languages. Unless you are already familiar with the four principles for sustainability, we strongly recommend that you complete one of these two eLearning courses as preparation for attending the PROBE Facilitator Training course, particularly if your interest in PROBE has a specific focus on encouraging and assisting businesses to address the sustainability aspects of their practices and performance.  For more details of the eLearning courses, and to purchase one of them, click here (this link will take you to The Natural Step's website)
Once you have completed the eLearning course, if you wish to develop a deeper understanding of the FSSD, you may wish to attend the TNS Sustainability for Leaders course – details available here.  This course and the the PROBE Facilitator Training course complement one another, and can be attended in any sequence.